Our product picks are editor-tested, expert-approved. We may earn a commission through links on our site.
Astronomical prices from a galaxy far, far away.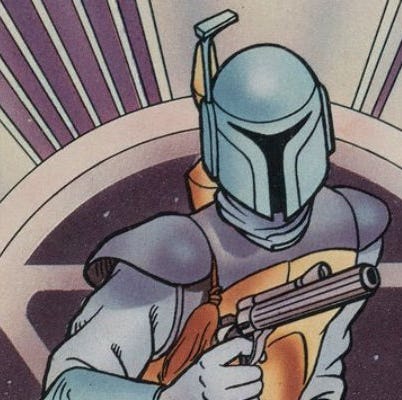 Kenner
In 1977, no one knew what Star Wars would eventually become. But with a patience and good fortune, unopened 40-year-old Star Wars toys now fetch eye-watering prices. While some of the prices listed are for the most exclusive pieces, Star Wars collecting is big business.
And by judging by these price tags, business is good.
1 of 13
Boba "Rocket" Fett (1979)
Cost: Up to $86,000
Our first figure is a bit of an exception compared to others on this list because it was never actually available for sale. Because of a safety issue with a missile-firing Battlestar Galactica toy in 1978, Kenner decided scrap its design for a rocket-firing Boba Fett. Fortunately, some forward-thinking Kenner employees snagged the pre-production models.
Now, these figures are often referred to as the "Holy Grail" of Star Wars collecting. In 2016, a collector tried to sell a "Rocket" Fett for $150,000.
2 of 13
Brazilian Glasslite Vlix Figure (1988)
Cost: Up to $45,000
From the short-lived 1985 animated series Droids, Vlix might seem unfamiliar, and that's okay. He was part of a planned second series of Droids action figures by Kenner, but the line was canceled before he could be released. A few years later, a Brazil company purchased the rights to some of the scrapped toys and produced and sold them exclusively in Brazil—making him ultra rare in the U.S.
3 of 13
Vinyl Cape Jawa (1978)
Cost: Up to $28,000
Part of the first run of action figures by Kenner, what makes this little guy so rare is that the company changed the cape from vinyl to cotton early on in the release. Kenner decided people would want something a little higher quality to justify paying the same price for a smaller figure.
4 of 13
Luke Skywalker with Double-Telescoping Lightsaber (1978)
Cost: Up to $25,000
Like Obi-Wan (and Darth Vader), Luke also had a double-telescoping lightsaber. The double-telescope was so delicate that Kenner decided to change it before the product shipped, making even loose figures with the feature a rarity.
5 of 13
Boba Fett (1979)
Cost: Up to $12,000
Because of the mystique surrounding his character, Boba Fett, in any iteration, is a popular and sought-after character. Introduced in the animated 1978 The Star Wars Holiday Special, this Kenner action figure is the earliest release of this figure on an Empire Strikes Back card.
6 of 13
Special Action Figure Set Villains (1978)
Cost: Up to $10,000
Released by Kenner, where else could you get three baddies in one place? The package design is slick and fits in perfectly with the original figures, making it rare and iconic in pristine condition.
7 of 13
LEGO Millennium Falcon (2007)
Cost: Up to $9,150
LEGO kills it with their Star Wars models and sets, so it's not surprising that they made the list. Originally costing $500 and comprised of more than 5,100 pieces, this Falcon is one of the most expensive and biggest LEGO sets ever released. New in box will cost you, and even a completely constructed model can cost $1,000 or more.
8 of 13
Early Bird Certificate Package (1977)
Cost: Up to $9,000
If you're a true fan of the toys, you know exactly what this is, and why it was ingenious. Because of the lack of time between when the deal was made and the movie was released, no toys were ready for Christmas 1977. Kenner didn't want to lose out on sales and, more importantly, disappoint children, so they came up with a promise of toys in the new year with the purchase of a certificate package. Nostalgia is high for this one, and to find one complete and in good condition hikes up the price.
9 of 13
Death Squad Commander (1978)
Cost: Up to $6,500
Also included in the first run of figures by Kenner, this background character hit the list because like the vinyl Jawa, he underwent a noticeable change. You might recognize him as the Star Destroyer Commander—Kenner changed the name after realizing how morbid it sounded—but his OG name on the package makes him rare.
10 of 13
Droids Boba Fett (1985)
Cost: Up to $6,000
Another character from the 14-episode Droids animated series, this Boba Fett isn't as rare as Vlix, but it will still cost you a pretty penny as it includes a gold-plated coin and his black Imperial Blaster.
11 of 13
Gamorrean Guard with Collectors Coin (1985)
Cost: Up to $5,500
Who wouldn't want to serve Jabba the Hutt? Especially if it meant getting your own figure and collectors coin. Another from Kenner, what makes this guy rare is the coin, and the fact that it's all mint in the original packaging.
12 of 13
Han Solo (1978)
Cost: Up to $5,400
What can we say? It's Harrison Ford, as an action figure, and in pristine condition on a card back. It's more than 40 years old, that makes it rare enough. The one shown is a "small head" Han Solo, a more valuable version of the "big head" Solo that came later.
13 of 13
Yak Face (1985)
Cost: Up to $4,000
This unfamiliar face, sometimes compared to Joe Camel the cigarette mascot, was part of the Power of the Force line from Kenner. The line was canceled before he was released in the U.S., but he did pop up in Europe and Canada, making him a hidden gem for collectors.
Want to save this article?
Create an account and you'll be able to save and revisit articles. It's free!
Join Men's Health
You've hit your max! To read and save unlimited articles, sign up to become a Men's Health member.
Want to save this article?
Only Men's Health MVP members can save this article. Become a Men's Health MVP member to read and save unlimited articles.