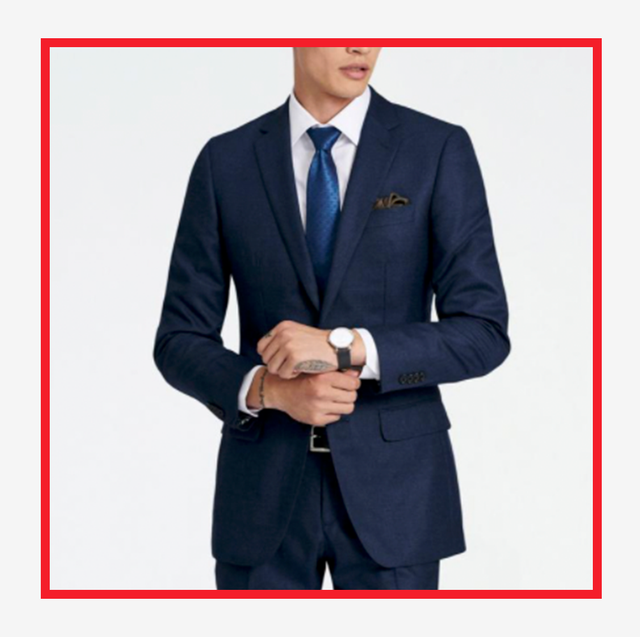 Courtesy of Retailer
YOU MAY have noticed that fewer menswear brands are making blazers these days, given our laxer dress codes. But we'd argue that the best men's blazers still have a place in our closets. Blazers, and by that we also mean sport coats (we'll cover that distinction later), work on multiple levels of formality. They can go full formal when matched with slacks and a tie for occasions like weddings and dinner parties. But the blazer's specialty is business casual, worn with jeans or chinos and button down. What makes them especially relevant today however, is how well blazers accent casual looks.
The right blazer can take a matching sweatsuit for all-day lounging, or level up a party fit. You can throw a blazer over a t-shirt and shorts combo for bead days our outdoor dinner parties. Or you can go classic with a navy blue blazer, a wardrobe workhorse, that looks great with just about anything.
Best Jackets | Best Suits | Best Dress Shirts | Best Button-Down Shirts | Best Bomber Jackets
What Exactly Is the Difference Between Blazers, Sport Coats, and Suit Jackets?
Blazers: Essentially, a blazer is a jacket in the style of a suit jacket that does not have matching pants. They usually have a less refined look to them when it comes to stitching and pocket construction. However, the only definitive characteristic of a blazer is the lack of matching pants. Most people associate the blazer with the old prep school/yacht club navy jacket with gold buttons. While that may be the most iconic form of blazer, the category has much more to offer.
Blazers were originally worn by sports teams, starting with rowing clubs, at schools in England during the early 1800s. Think of them as the original version of a varsity jacket. The term blazer comes from the fact that the first ones were bright red. As team members started to wear them around, they caught on in popular style.
Sport Coats: For most people, fashion enthusiasts and professionals included, the terms sport coat and blazer are interchangeable. The origin of the term sport coat goes back to the days when men wore full tailored outfits to play sports like skeet shooting, cricket, tennis, and rowing. These jackets did not feature all the lining and finishing details of tailored suits. This made them less constricting and allowed them to breathe better. That legacy lives on in the fact that sport coats and blazers are usually half lined or completely unlined today. It also lives on in the tweed blazers that were originally worn for hunting.
Suit Jackets: This one is pretty self explanatory. If you have a matching pair of pants, that jacket is a suit jacket. All of the rules for what details make a proper suit jacket went out the window long ago. Any level of finishing details, lining, pocket arrangement, and fabrics are out there today. So now, it's just the pants that make a suit. One thing to keep in mind is that most traditional suit jackets, the ones that follow all those old rules, do not make good blazers because they're too formal looking and just don't come off correctly without the matching pants.

Best Office Blazer
Indochino
Bottsford Micro Check Navy Blazer
Amazon Bestseller
Amazon Essentials
Men's Long-Sleeve Button-Front Slim-fit Stretch Blazer
Best Gold Button Blazer
Brooks Brothers
Archive Blazer
Best Luxury Blazer
Polo Ralph Lauren
Polo Doeskin Blazer
Best Tweed Blazer
Todd Snyder
Madison Sport Coat in Black Cream Herringbone
Great for traveling
Buck Mason
High-Ridge Cord Carry-On Jacket
Best Moisture-Wicking Blazer
Lululemon
Venture Blazer
Best Hot Weather Blazer
Bonobos
Unconstructed Blazer
Best Patch Pocket Blazer
Paul Smith
Tailored-Fit Linen Patch-Pocket Blazer
Best Statement Blazer
Gucci
HA HA HA pinstripe wool jacket
Banna Republic
Milano Sweater Blazer
Best Budget Blazer
Uniqlo
Wool Blended Jacket
Great Wool Blazer
Ted Baker
Wool Karl Blazer
Hawes and Curtis
Stone Dogtooth Italian Wool Jacket
Faherty
Inlet Knit Blazer
Brunello Cucinelli
Striped Cotton Blazer – Cloud Blue
Barena
Piero Slim-Fit Cotton-Blend Canvas Blazer
Goodthreads
Men's Slim-Fit Stretch Twill Blazer
Peter Millar
Stealth Fleece Clubhouse Wool-Cashmere Blazer
J.Crew
Ludlow Slim-Fit Unstructured Suit Jacket In Irish Cotton-Linen
Abercrombie & Fitch
Classic Blazer
Best Leather Blazer
Overland
Carlisle Distressed Italian Lambskin Leather Blazer
Todd Snyder
Knit Madison Sport Coat in Birch
Topman
One-Button Velvet Blazer
How to Find the Right Blazer for You
Size
Most critical is the fit of the shoulder. The seam on the jacket should sit directly above the edge of your shoulder. Most guys buy jackets that are too big. Even the best tailor can't fix an ill-fitting shoulder, so get this detail correct and you're off to a good start.
Sleeves
Next, focus on the sleeve length. They should end about a half-inch above your hand, allowing room for your shirt cuff to show. If you are 5'7", try a short jacket length. If you're 5'8" to 6', try a regular jacket first. If you are 6' or taller, you'll probably need a long. Tip: Wear a long sleeved dress shirt when you get fitted in your blazer. This helps the tailor know how to adjust the sleeves.
Body
Blazers are meant to provide structure, so it shouldn't fit like a college hoodie, although off the rack, the body of the jacket might be a little boxy. If that's the case, ask your tailor to have it taken in so it skims your torso. Traditional fits are typically longer in the body, while modern fits are cut shorter. Either way, if the bottom of the jacket falls below your butt, it's too long. Ideally, the end of your sleeve and the bottom of the jacket should more or less line up.
Style
Traditional blazers have metal buttons, but these days they come in plenty of styles. We're big fans of the knit blazer, which marries the comfort of a sweatshirt with the structure of a jacket. We also like chino blazers that can dress up or dress down your office look, and look great for summer weddings.
Christian Gollayan
Deputy Editor, Commerce
As Men's Health's Deputy Editor, Commerce, Christian Gollayan oversees all shopping content on menshealth.com.
Brad Lanphear
Contributing Commerce Style Writer
Brad is a contributing style commerce editor.