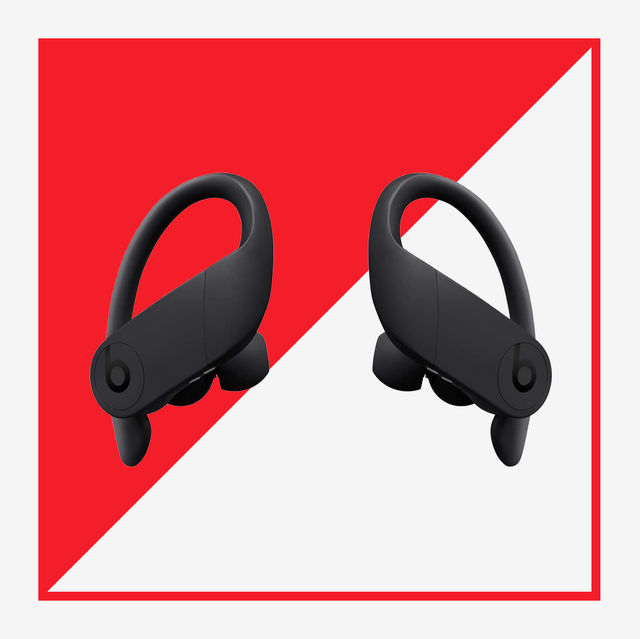 Courtesy of Retailer
THERE ARE two types of people: First, those who hate to listen to music while working out. They prefer to hear their surroundings and breathing, or relish the silence as a time to think and ponder. The second? Those who can't workout without their music. No tunes means no workout. Whichever camp you fall into, we're not going to judge.
Whether you prefer to listen to music, a podcast, or tune into sports while getting your sweat on, you'll need a solid pair of workout headphones to make it happen. So investing in the best wireless headphones that are truly built for working out is key.
Best Fitness Trackers | Best Smartwatches | Best Treadmills | Best Running Headphones | Best Wireless Earbuds | Best Bluetooth Speakers
For most, that means a high-quality pair of wireless headphones (because this is 2023, after all, and cords get in the way of everything). Of course, there are multiple camps: Those who prefer earbuds, over-the-ear headphones, or even bone-conducting headphones. The key is to pick the ones that fit your ears and head best, and won't budge while you're running or repping out sets on a power rack. Plus, they need to be at least water-resistant (ideally waterproof) to withstand plenty of sweat.
But picking the right pair can be tricky, with so many options flooding the market. Brands like Jaybird, Beats by Dre, and Apple all make stellar sweat-proof headphones for all your workouts, including CrossFit. But there are so many more to choose from, including Bose, Jabra, Samsung, and Google, to name a few. To help you out, we rounded up some of the best workout headphones for all budgets—those that are worth the splurge, and those that will save you some serious coin. Here are 16 of our favorites.
Best Tested Workout Headphones
Apple
AirPods Pro (2nd Generation)
| | |
| --- | --- |
| Total battery life | Up to 30 hours (including the charging case) |
Best Over-Ear Headphones for Workouts
Skullcandy
Crusher Evo Wireless Over-Ear Bluetooth Headphones
| | |
| --- | --- |
| Total battery life | Up to 40 hours |
Best Ear-Hook Headphones for Workouts
Beats by Dre
Powerbeats Pro Wireless Earbuds
| | |
| --- | --- |
| Total battery life | Up to 24 hours (with charging case) |
Most Durable Workout Headphones
Under Armour
Project Rock Over-Ear Training Headphones
| | |
| --- | --- |
| Total battery life | Up to 45 hours |
Best Noise-Canceling Earbuds for Workouts
Bose
QuietComfort Earbuds II
| | |
| --- | --- |
| Total battery life | Up to 24 hours (with the charging case) |
Most Versatile Headphones for Workouts
SteelSeries
Arctis Nova Pro Wireless Headphones
| | |
| --- | --- |
| Total battery life | 22 hours (with swappable batteries) |
Best Bang-for-Your-Buck Workout Earbuds
1MORE
Aero Wireless Earbuds
| | |
| --- | --- |
| Total battery life | 28 hours (with the carry case) |
Best Workout Headphones on a Budget
JBL
Tune 225TWS True Wireless Earbud Headphones
| | |
| --- | --- |
| Total battery life | Up to 25 hours (with the charging case) |
Jabra
Elite 5 Wireless Earbuds
Google
Pixel Buds A-Series
Samsung
Galaxy Buds 2 Pro
Beats By Dre
Flex Wireless Earphones
Aftershockz
Aeropex Mini Bluetooth Wireless On-Ear Headphones
How to Find the Best Workout Headphones (for You)
Headphones—wireless headphones, in particular—have come a long way in the last few years. The best wireless headphones offer next-gen Bluetooth connectivity, incredible active noise-cancellation, all-day battery life, and rich, spatial audio—sometimes all for less than $150. Maybe you need all of these features, maybe you don't. Whatever your personal listening style or regular fitness routine, there's a "perfect" pair of workout headphones for you. Here's what to look for to find the right ones.
A Durable, Sweat-Resistant Design
If you go hard during your workouts, you no doubt sweat—probably a lot. You need a pair of headphones that can keep up. Look for headphones or earbuds that are at least water-resistant or, even better, waterproof. If most of your workout are on the moderate side, this may not be an issue, and any decent pair of wireless headphones might work for you.
Noise Cancellation
The biggest leap forward in wireless headphone design is noise-canceling technology. If you work out at the gym, in the city, or anywhere where outside noise is an issue, look for active noise cancellation. This means your headphones have built-in circuitry and software to actively drown out unwanted sounds around you. Some models offer a "Transparency Mode" (or something similar) that allows you to quickly tune back into your surroundings at the push of a button—perfect for when you're crossing a street, ordering a coffee at the airport Starbucks, or chatting up your running partner.
Ease of Use
Your workout-friendly headphones should have simple buttons or touch-capability built in that allows you to skip music tracks, change the volume, and take phone calls—all without having to take your phone from your pocket. And it should be intuitive enough to use even when you're in peak workout mode.
True Wireless Capability
These days, some wireless headphones aren't truly wireless when you account for their charging cable. If you want the most streamlined experience, opt for true wireless headphones or earbuds. The simple design ensures that you never have to worry about a cable getting in the way when you're working out. Charging is handled wirelessly: Headphones might support charging via a wireless pad, and earbuds can often be dropped into a charging case where they'll automatically start recharging in your pocket or backpack.
Price
Wireless headphones can be expensive, but they don't have to be. The best wireless headphones are priced north of $250 and offer all of the above features and more. But, if you're on a budget or can't justify splurging on a pair of workout headphones, you can find plenty of good pairs for between $100-$150.
How We Selected the Best Workout Headphones
For the past two years, we consulted with Men's Health's Fitness and Gear editors on the top workout headphones for men. Experts including our fitness director Ebenezer Samuel, C.S.C.S. and senior commerce editor Christian Gollayan, put countless headphones through the wringer at the gym to evaluate their fit, durability, comfort, sound quality, performance, and price. We also considered top-reviewed men's workout headphones with at least 100 five-star customer ratings on e-commerce websites that we trust. The list above is a round-up of our picks for the best workout headphones in 2023.
Christian Gollayan
Deputy Editor, Commerce
As Men's Health's Deputy Editor, Commerce, Christian Gollayan oversees all shopping content on menshealth.com.
John Thompson
Gear and Commerce Editor
John Thompson is the Gear and Commerce Editor at Men's Health, where he covers fashion, grooming, gear, and technology.
Mike Richard
Mike Richard has traveled the world since 2008.