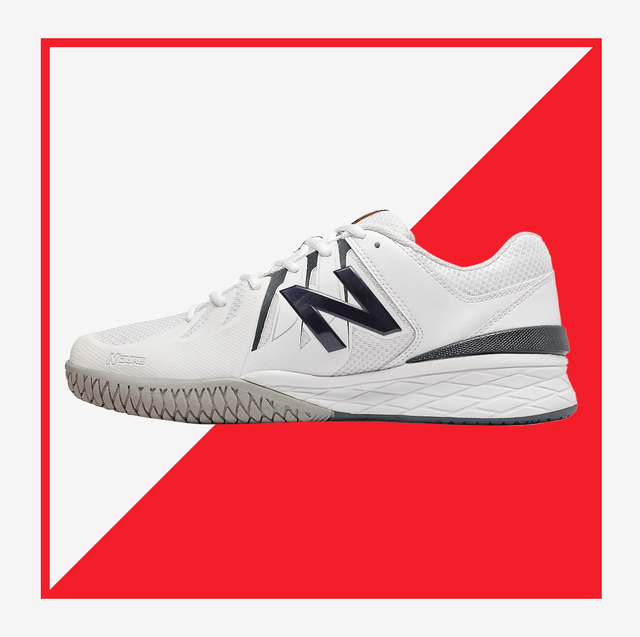 Courtesy of Retailer
IN CASE you haven't heard, pickleball is all the rage right now. America's fastest growing sport has created a full on boom train, and due to the face the sport is friendly to all ages and levels of competition, brands and entrepreneurs are rushing to develop new gear that's suitable for all types of players. It's true your pickleball paddle is the most important piece of equipment you need, but another major area to consider investing in is proper footwear. We're talking about pickleball shoes.
When looking for a proper pickleball shoe the two most important factors to consider are traction and lateral stability. You're going to be making quick movements in all types of directions, so you want strong outsoles with responsive tread patterns and a midsole structure that's made to for fast-twitch, side-to-side movements. A shoe with good lateral stability should have a wider base and a stiff lower structure to help prevent common pickleball injures (like ankle or knee sprains). Other factors to consider in a proper pickleball shoe are comfort, weight, and breathability.
The best pickleball shoes include styles specifically made for the sport (a recent trend thanks to pickleball's popularity) as well as shoes that are made for tennis and other racket sports. But regardless of the designation, all of these models ahead are the most suitable styles for all-day play. With that all being said, it's time to optimize your game with a proper pair of kicks.
Best Pickleball Paddles | Best Moisture-wicking Shirts | Best Workout Shoes | Best Pickleball Balls | Best Sunscreens | Best Athletic Shorts | Best Slides | Best Running Shoes
Best Tested
Wilson
Rush Pro Ace Pickler Men's Pickleball Shoe
| | |
| --- | --- |
| Weight | 12 oz |
| Outsole | High-density Duralast rubber |
Best Pro Model
Skechers
Go Train Arch Fit Viper Court Pickleball
| | |
| --- | --- |
| Weight | 11.7 oz |
| Outsole | Goodyear Performance Outsole |
Best Support
K-Swiss
Men's Express Light Pickleball Shoe
| | |
| --- | --- |
| Weight | 12.7 oz |
| Outsole | AÖSTA 7.0 Rubber Compound |
Best Shoe for Outdoor Play
Asics
Gel-Renma
| | |
| --- | --- |
| Weight | 12.6 oz |
| Outsole | Smooth Wrap-up outsole |
Best Shoe for Indoor Play
Asics
Upcourt 5
| | |
| --- | --- |
| Weight | 10 oz |
| Outsole | Synthetic rubber |
Best Ankle Support
Mizuno
Wave Momentum 2
| | |
| --- | --- |
| Weight | 11 oz |
| Outsole | XG (extra-grade) rubber |
Best New Balance Shoe for Pickleball
New Balance
New Balance 1006
| | |
| --- | --- |
| Weight | 13.9 oz |
| Outsole | Non-marking rubber outsole |
Best Fila Shoe for Pickleball
Fila
Men's Speedserve Energized Tennis Shoes
| | |
| --- | --- |
| Weight | 13 oz |
| Outsole | Strong rubber |
Best Adidas Shoe for Pickleball
adidas
Courtjam Control Tennis Shoes
| | |
| --- | --- |
| Weight | 12.9 oz |
| Outsole | Adiwear hard court outsole |
Best Nike Shoe for Pickleball
Nike
Court Zoom Pro Tennis Shoes
| | |
| --- | --- |
| Weight | 14.5 oz |
| Outsole | Zoom with waffle pattern |
Amazon's Choice
Asics
Gel-Venture 8
| | |
| --- | --- |
| Weight | 12.5 oz |
| Outsole | Re-engineered outsole lugs |
Best High Performance Shoe
Nike
NikeCourt Zoom Vapor Cage 4 Rafa
| | |
| --- | --- |
| Weight | 15.48 oz |
| Outsole | Durable rubber |
What are the best shoes for playing pickleball?
The best shoes for playing pickleball are optimized for fast lateral movements and are made to withstand wear and tear on outdoor and indoor courts.
In general, a quality pickleball shoe is going to have a wider base and be more sturdy in the midsole and outsole. Most pickleball shoes mimic quality tennis shoes (made for tennis only) and volleyball trainers. The latter shoe is especially great for indoor use, as volleyball trainers promise ample support and premium traction on indoor surfaces and gym floors.
It's also worth mentioning pickleball shoes require more stability and build, so you can expect them to be a tad bit heavier than a pair of lightweight everyday sneakers. Pickleball demands quick movements and endurance, so the features we mentioned above are going to help maximize your playing abilities while staying comfortable and injury-free.
Can you wear running shoes for pickleball?
If you're someone who's going to play pickleball every once in a blue moon, then we won't knock you for wearing running shoes or sneakers. But if you're expecting to play pickleball frequently, you certainly want to avoid running shoes.
Most running shoes are made only for forward motion, so there's often less emphasis on reinforcing the shoe for side-to-side movements. Running shoes also have less structure and stability than what you want in a pickleball shoe, as the running styles these days are made to be as lightweight and breathable as possible (which means less focus on support).
So to be clear, you should not wear running shoes for pickleball if you expect to play the game on a regular basis. A proper pickleball shoe is a worthy investment that will help give you traction and stability while greatly decreasing the chance of rolling a ankle or spraining a knee.
For the past 12 months, we consulted with Men's Health's editors and writers on the top pickleball shoes. Experts, including our Gear and Commerce Editor John Thompson, put a number pickleball shoes to the test and evaluated their stability, durability, and weight. We also considered top-reviewed pickleball shoes that had high customer ratings on e-commerce websites we trust.
John Thompson
Gear and Commerce Editor
John Thompson is the Gear and Commerce Editor at Men's Health, where he covers fashion, grooming, gear, and technology.