New Orleans Saints quarterback Derek Carr opened up about the last few days of his time with the Las Vegas Raiders and said he was willing to be traded from the team.
Carr was released from Las Vegas after the franchise failed to find the right suitor in a trade. Carr had a no-trade clause in his contract and did not need to help the Raiders in any capacity move on from him. However, he said he was willing to be traded to another team but was only allowed to talk to one team.
CLICK HERE FOR MORE SPORTS COVERAGE ON FOXNEWS.COM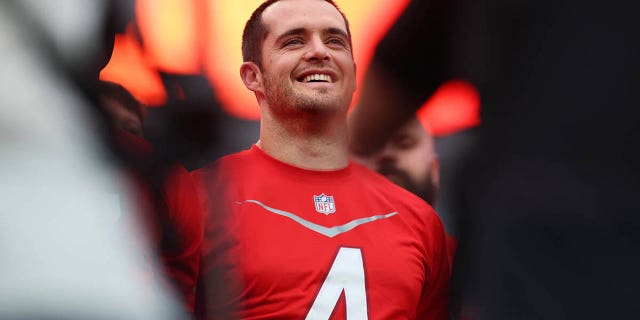 Quarterback Derek Carr, #4, participates during a Pro Bowl rehearsal event at Allegiant Stadium on Feb. 4, 2023, in Las Vegas. (Erik Verduzco/Las Vegas Review-Journal/Tribune News Service via Getty Images)
"I was very willing to accept a trade," Carr said Saturday, via ESPN. "But I was only able to talk to one team. I was only given permission to talk to one team. As much as I love and respect those guys, Dave and Josh over at the Raiders, how do I make that decision when it's the only time in my career that I've been, or could possibly be free? I can't possibly make that decision without being able to talk to other people. But I still almost made the decision. I felt so much love here. Like, I still almost did it.
SAINTS QB DEREK CARR SAYS UNCEREMONIOUS DEPARTURE FROM RAIDERS MOTIVATED HIM: 'IT LIT A FIRE IN ME'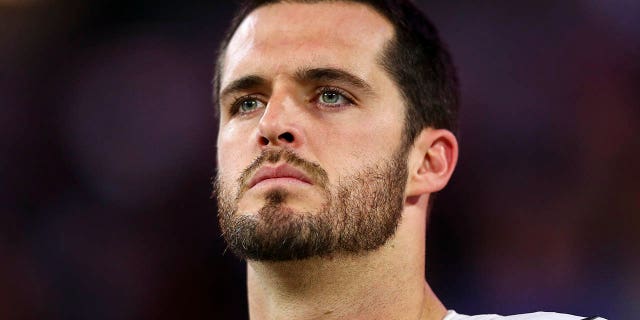 Derek Carr, #4 of the Las Vegas Raiders, stands on the sidelines during the national anthem prior to an NFL football game against the Los Angeles Rams at SoFi Stadium on Dec. 8, 2022 in Inglewood, California. (Kevin Sabitus/Getty Images)
"But at the end of the day, I just felt like I knew that when I sat here, I wanted to be able to look my kids in the eye, look my wife in the eye, and know that I did everything in my power, I asked every question, I went through every process to make sure I tried to make the best decision for our family, for us together. So, I wasn't closed off to it all, which was maybe shocking to some people. But I wasn't closed off, I was willing to work, but I just was only able to talk to the Saints. But it worked out."
Carr signed a four-year deal with the Saints last week after nine seasons with the Raiders.
His time with Las Vegas came to a close after failing to make the playoffs in 2022. He had 3,522 passing yards and 24 touchdown passes. He has only appeared in one playoff game since he entered the NFL.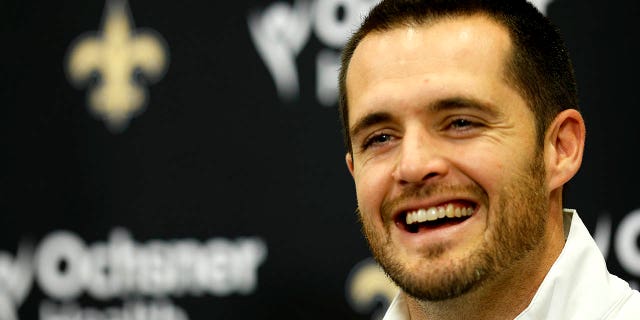 Quarterback Derek Carr of the New Orleans Saints speaks to members of the media after signing a four-year contract with the Saints at New Orleans Saints Indoor Practice Facility on March 11, 2023 in New Orleans. (Sean Gardner/Getty Images)
CLICK HERE TO GET THE FOX NEWS APP
Carr joins New Orleans already having a relationship with Dennis Allen while the two were with the Raiders and the team already has a dynamic offense when healthy. Michael Thomas, a former Offensive Player of the Year, is expected to be with the Saints in 2023.
Ryan Gaydos is a senior editor for Fox News Digital.