MSNBC analyst and former U.S. Congressman from Florida David Jolly lamented the fact that a new select committee in the GOP-majority House might cut big government down to size. 
In response to a tweet from Congressman Dan Bishop, R-N.C. which expressed his hope that a new "Church-style committee" will curb "the weaponization of the federal government," Jolly complained that the committee will "attack and shred" the government.
Just hours before House Republicans finally voted to elect Kevin McCarthy, R-Calif., as Speaker of the House, Bishop tweeted that he was pleased with new rules negotiated between members and the incoming Speaker that will allow a new House committee to directly challenge federal government overreach.
REPUBLICANS TORCHED FOR MCCARTHY-HOUSE SPEAKER VOTE FIASCO: 'WORST GAME OF CHICKEN EVER'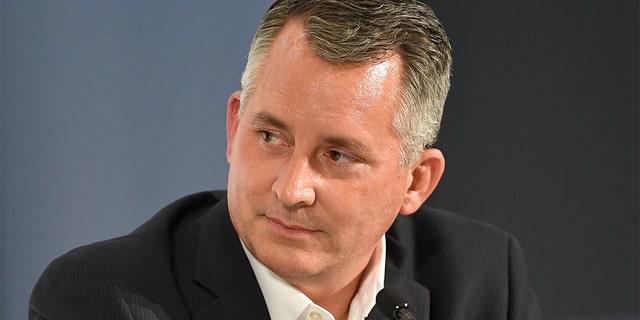 LOS ANGELES, CA – OCTOBER 20:  David Jolly speaks onstage at Politicon 2018 at Los Angeles Convention Center on October 20, 2018 in Los Angeles, California.  (Photo by Michael S. Schwartz/Getty Images)
(Michael S. Schwartz/Getty)
The Republican lawmaker wrote, "With the rules agreement we negotiated, we will have a powerful Church-style committee to go after the weaponization of the federal government – the FBI, DOJ, DHS, and all the rest."
He also expressed his feeling that the negotiations were a "victory for the constitutional rights of all Americans," and added, "I'm ready to get to work."
Bishop's reference to a "Church-style committee" harkens back to a Watergate era U.S. Senate committee chaired by Sen. Frank Church, D-Idaho. According to Senate.gov, in 1973 that committee's investigations revealed that the "executive branch had directed national intelligence agencies to carry out constitutionally questionable domestic security operations."
Jolly, who left Congress and became an independent in 2018, has turned increasingly liberal since becoming an analyst on MSNBC. He balked at Bishop's notion. 
KEVIN MCCARTHY DELIVERS FIRST REMARKS AFTER WINNING HOUSE SPEAKER: 'OUR NATION IS WORTH FIGHTING FOR'
In effect, he denied that the current government has engaged in such questionable antics and should be reined in.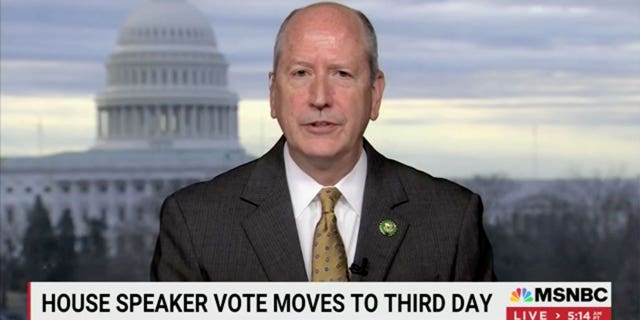 Rep. Dan Bishop joins the hosts of "Morning Joe" on Thursday. 
(Screenshot/MSNBC/MorningJoe)
He forcefully rebutted Bishop's tweet, saying, "With all the focus on the House rules being given away to the Freedom Caucus et al, this development below may be the most consequential – a new House Committee to attack and shred the federal government."
Jolly added that the new committee will end up "undermining confidence for millions of Americans in our self governance."
CLICK HERE TO GET THE FOX NEWS APP
One user responded to Jolly's tweet, proposing the idea that Democrat lawmakers may have some use for such a committee. They wrote, "Could be a farce for sure but the GOP better be careful because my guess is that DEMS will indeed participate in this select committee (unless McCarthy kicks them off).  And, there are some questions I want [FBI director] Wray to answer."
Though the lawmaker completely trashed that idea, responding, "I think it's going to serve as their insurrection platform."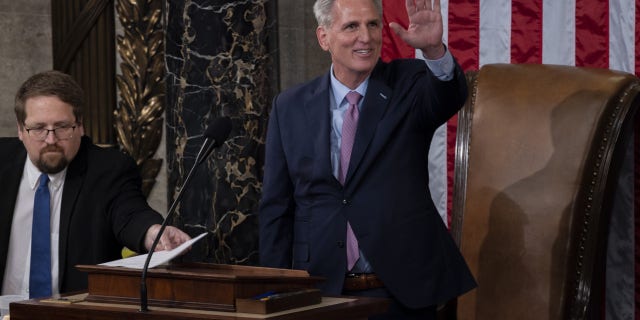 House Speaker Kevin McCarthy, R-Calif., celebrates after taking the oath of office in Washington, D.C., on Jan. 7, 2022.
(Nathan Posner/Anadolu Agency via Getty Images)
Gabriel Hays is an associate editor for Fox News Digital.