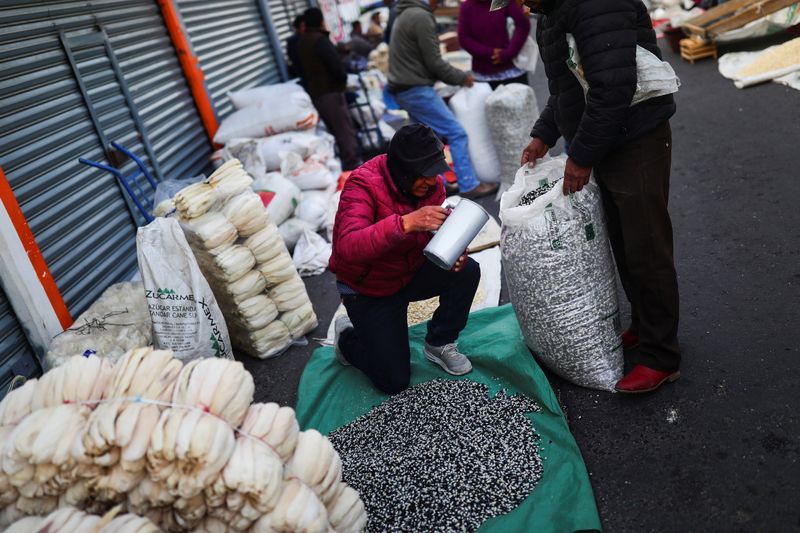 © Reuters. A man sells corn grains at a public market in Ozumba de Alzate, State of Mexico, Mexico, May 24, 2022. REUTERS/Edgard Garrido/File Photo

MEXICO CITY (Reuters) – Mexico's headline inflation likely accelerated in December after slowing its pace for two straight months, a Reuters poll showed Friday, reinforcing bets that monetary policymakers will maintain a restrictive monetary policy to tame prices.
The median forecast of 11 analysts shows annual inflation at 7.85% in December, up from the 7.80% posted in November, but still below the record of 8.70% it reached in August and September.
Economists attribute December's outlook largely to higher prices for food items and carbonated beverages.
Inflation has blown past the Bank of Mexico's target rate of 3%, plus or minus one percentage point, prompting it to increase its key lending rate by 650 basis points to 10.50% during the current hiking cycle, which began in June 2021.
Banxico, as Mexico's central bank is known, is considering another interest rate hike at its next monetary policy meeting scheduled for Feb. 9, according to the minutes of its last board meeting.
The government said Friday it will issue a new decree for a temporary exemption on import tariffs for various items in an effort to pull the brakes on price increases.
Meanwhile, annual core inflation, considered a better gauge of the price trajectory since it excludes items of high volatility, was forecast to hit 8.35% in December, after peaking at 8.51% in November, its highest level in two decades.
In December alone, consumer prices are forecasted to have grown by 0.42% from the previous month, while the median projection for monthly core inflation was seen at 0.65%.,
Mexico's statistics institute will release inflation data for December on Monday.