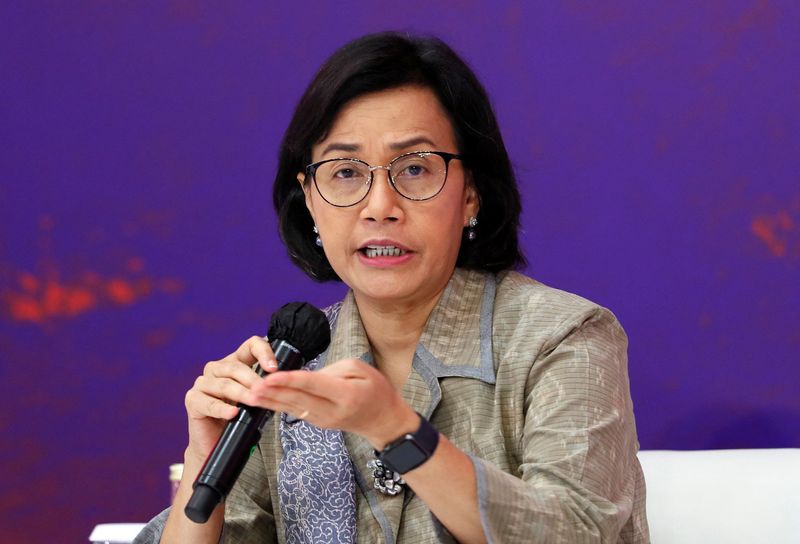 © Reuters. FILE PHOTO: Indonesia's Finance Minister Sri Mulyani Indrawati speaks during a side event on the G20 Finance Ministers and Central Bank Governors Meeting in Nusa Dua, Bali, Indonesia, 14 July 2022. Made Nagi/Pool via REUTERS

By Stefanno Sulaiman and Gayatri Suroyo
JAKARTA (Reuters) – Indonesia recorded a 464.3 trillion rupiah ($29.77 billion)fiscal deficit in 2022, or 2.38% of gross domestic product, based on unaudited data, Finance Minister Sri Mulyani Indrawati said on Tuesday, much smaller than originally forecast.
The government had initially planned for a budget deficit of 4.85% of GDP. Revenue collection, however, got a boost from higher commodity prices and the easing of COVID restrictions last year, prompting the government to revise down the deficit forecast several times.
The latest figure was below a forecast on Dec. 21, when President Joko Widodo said he expected a 2.49% deficit, and means fiscal consolidation has been faster than planned.
By law, the government has room to spend more, with a legal budget deficit ceiling of 3% of GDP waived for three years from 2020 to allow for a pandemic response.
Southeast Asia's largest economy likely grew 5.2% last year, Sri Mulyani told an online news conference. Economic growth in 2021 was 3.7% and the government is targetting a 5.3% GDP expansion this year.
Indonesia recorded 2,626.4 trillion rupiah of revenue last year, up 30.6% from 2021 and about 16% bigger than the target, the minister said.
The government spent 3,090.8 trillion rupiah, slightly below the planned amount and representing 11% growth from the previous year.
Of that, 551.2 trillion rupiah was spent to subsidise fuel prices and power tariffs. This was also below previous official estimate.
The government raised subsidised fuel prices by about 30% in September due to budget pressures stemming from high global energy prices. At the time, authorities said the fuel price hike would cut the energy subsidy budget by some 48 trillion rupiah, bringing the total estimated budget to 650 trillion rupiah.
Given the strong 2022 financial position, Sri Mulyani has said she would carry over any excess cash to reduce borrowing in 2023.
She did not disclose the amount of excess cash by the end of 2022, but reiterated a commitment to "optimise" the fund "to anticipate financing needs amid global economic uncertainties".
Indonesia expects a fiscal deficit of 2.84% of GDP in 2023.
($1 = 15,595.0000 rupiah)