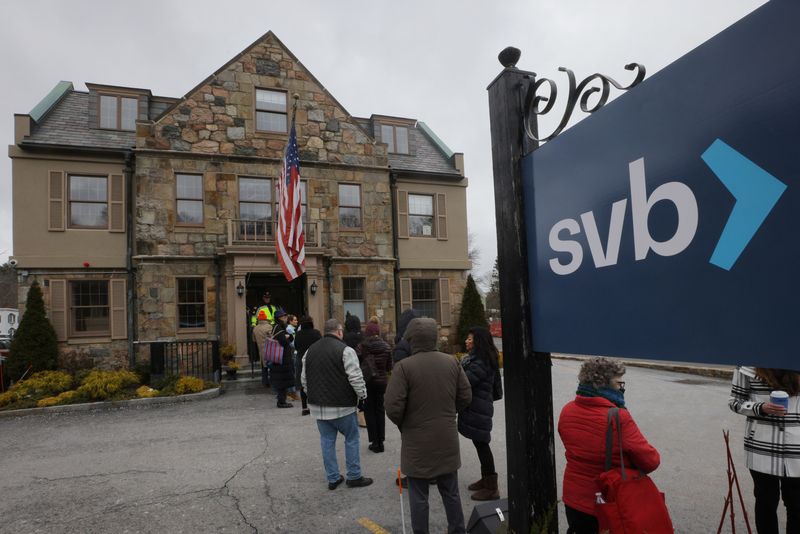 © Reuters. Customers wait in line outside a branch of the Silicon Valley Bank in Wellesley, Massachusetts, U.S., March 13, 2023. REUTERS/Brian Snyder

By Trevor Hunnicutt and Tom Westbrook
(Reuters) – U.S. bank stocks made sharp gains on Tuesday, recovering ground from lows triggered by the collapses of Silicon Valley Bank and Signature Bank (NASDAQ:) which had prompted assurances from U.S. President Joe Biden and other global policymakers.
Worries about contagion risks from the collapse of the two U.S. banks had compounded investor concerns about the impact on lenders of rising interest rates, hitting bank shares in Asia and Europe as investors re-examined their risks.
An indicator of credit risk in the euro zone banking system hit its highest since mid-July, while ratings agency Moody's (NYSE:) cut its U.S. banking system outlook to negative from stable "to reflect the rapid deterioration in the operating environment".
Although the volatility index, Wall Street's "fear gauge", neared six-month highs overnight, U.S. regional bank shares bounced, with First Republic Bank (NYSE:) up 52.7%, a day after hitting an intraday record low of $17.53.
"If we do not see any high-profile failures in the near future, then the fears would subside," said Jack Ablin, chief investment officer at Cresset Capital.
Banking giants Citi, Wells Fargo (NYSE:) and JP Morgan were also higher in the pre-market.
However, Moody's said it was reviewing six lenders for a downgrade, including First Republic, Zions Bancorp, Western Alliance (NYSE:) Bancorp and Comerica (NYSE:).
Europe's banking index initially fell on Tuesday but recovered to rise 2.7%, with some saying that banks in the region were less vulnerable, after the index posted its biggest percentage loss in more than a year on Monday.
"A critical difference between the European and U.S. systems, which will limit the impact across the Atlantic, is that European banks' bond holdings are lower and their deposits more stable," Moody's said in a note.
Shares of embattled Credit Suisse initially fell as much as 4.5% after it said customer "outflows stabilized to much lower levels but had not yet reversed" in its 2022 annual report. But the bank's shares were up 1.2% in the afternoon.
Asian banking stocks had earlier extended their declines, with Japanese banks hit particularly hard. The Bank of Japan said financial institutions there had sufficient capital buffers to absorb losses caused by external factors.
Investor worries about potential contagion to other lenders worldwide have not been entirely dispelled by Biden's efforts to reassure markets and depositors or emergency U.S. measures to shore up banks by giving them access to additional funding.
"This is part of the process of the knob being turned to tighten financial conditions to make sure that we are on our way to normalising a higher interest rate world," Morgan Stanley (NYSE:) co-president Edward Pick said on Tuesday. "But there might well be surprises, there might well be reactions."
RATES RETHINK
A furious race to reprice interest rate expectations also buffeted markets as investors bet the U.S. Federal Reserve will be reluctant to hike next week.
Traders currently see a 50% chance of no rate hike at that meeting, with rate cuts priced in for the second half of the year. Early last week, a 25 basis point hike was fully priced in, with a 70% chance seen of 50 basis points.
Short-end yields in the euro zone tumbled again as investors bet the European Central Bank would moderate its policy tightening at Thursday's meeting, with chances of a Bank of England hike next week also seen receding.
Italian Banking Association head Antonio Patuelli told Il Corriere della Sera he hoped that in the wake of the SVB collapse "the ECB will do more thinking than the already announced decision to raise rates further".
Yunosuke Ikeda, chief equity strategist at Nomura Securities, said the shift to much less aggressive Fed hike expectations had also tempered the outlook for an eventual pivot in Japan away from ultra-low interest rates.
The prospect of higher rates had been "the reason investors have been really excited about Japan bank stocks", Ikeda added.
Analysts say uncertainty continues to dog the financial sector, with investors extremely worried about the health of smaller global banks, the prospect of tighter regulation and a preference to protect depositors at the expense of shareholders.
A wave of customers have applied to shift their accounts to large U.S. banks such as JPMorgan Chase (NYSE:) and Citigroup (NYSE:) from smaller lenders after SVB's collapse, the Financial Times reported on Tuesday.
Major U.S. banks have lost nearly $190 billion since the sell-off began, with regional lenders like First Republic Bank, which plunged more than 60% on Monday, hit hardest.
Biden said on Monday his administration's emergency measures meant Americans could be confident the U.S. banking system is "safe", while also promising stiffer regulation after the biggest U.S. bank failure since the 2008 financial crisis.
Regulator FDIC had moved swiftly to close New York's Signature Bank as well as taking control of SVB.
The Republican head of the U.S. House Financial Services Committee also sought to shore up support for the banking system, saying on Tuesday that both the FDIC and the Fed had acted within the law. He said he still planned to hold a hearing and review documents, although no date was announced.
GRAPHIC: SVB, Signature Bank are first bank failures since 2020 (https://www.reuters.com/graphics/USA-BANKS/SILICONVALLEY/zdpxdxzlwpx/chart.png)
OPEN FOR BUSINESS
In a letter to clients, SVB's new CEO Tim Mayopoulos said it was conducting business as usual within the United States and expected to resume cross-border transactions in coming days.
"I recognize the past few days have been an extremely challenging time for our clients and our employees," said Mayopoulos, a former CEO of federal mortgage finance firm Fannie Mae who was appointed by the FDIC to run SVB.
U.S. bank regulators sought to reassure nervous customers who lined up outside SVB's Santa Clara, California, headquarters on Monday, offering coffee and donuts.
"Feel free to transact business as usual. We just ask for a little bit of time because of the volume," FDIC employee Luis Mayorga told waiting customers.
GRAPHIC: The Rise and Fall of SVB and Signature Bank (https://www.reuters.com/graphics/USA-BANKS/SILICON%20VALLEY/dwvkdzoropm/chart.png)