Since its introduction a decade ago, Eventide's H9 Harmonizer – as well as the follow-up H9 Max – has become a standard on guitar pedalboards. 
Now, the company has outdone itself with a new and improved unit, the powerhouse H90, which Guitar World Tech Editor Paul Riario marvels is "undoubtedly the apex of engineering and sound fidelity in a singular multi-effects stompbox."
He continues, "With the ability to run two algorithms all at once and so much more, the formidable H90 is the next level up from the popular H9."
What do you get in the H90? For starters, there's the 52 effect algorithms from the H9, as well as 10 all-new ones – among them Polyphony pitch shift, Prism Shift, the Uni-Vibe-inspired Even-Vibe, Head Space tape delay, Wormhole reverb and WeedWacker Tube Screamer-style overdrive – that offer fresh effects and processors.
The H90 is also packed with new low-latency Polyphonic Pitch Shifting with SIFT (Spectral Instantaneous Frequency Tracking) technology, ARM-based architecture for new and exciting creative effects,  true spillover between programs and the ability to route effects in series or parallel.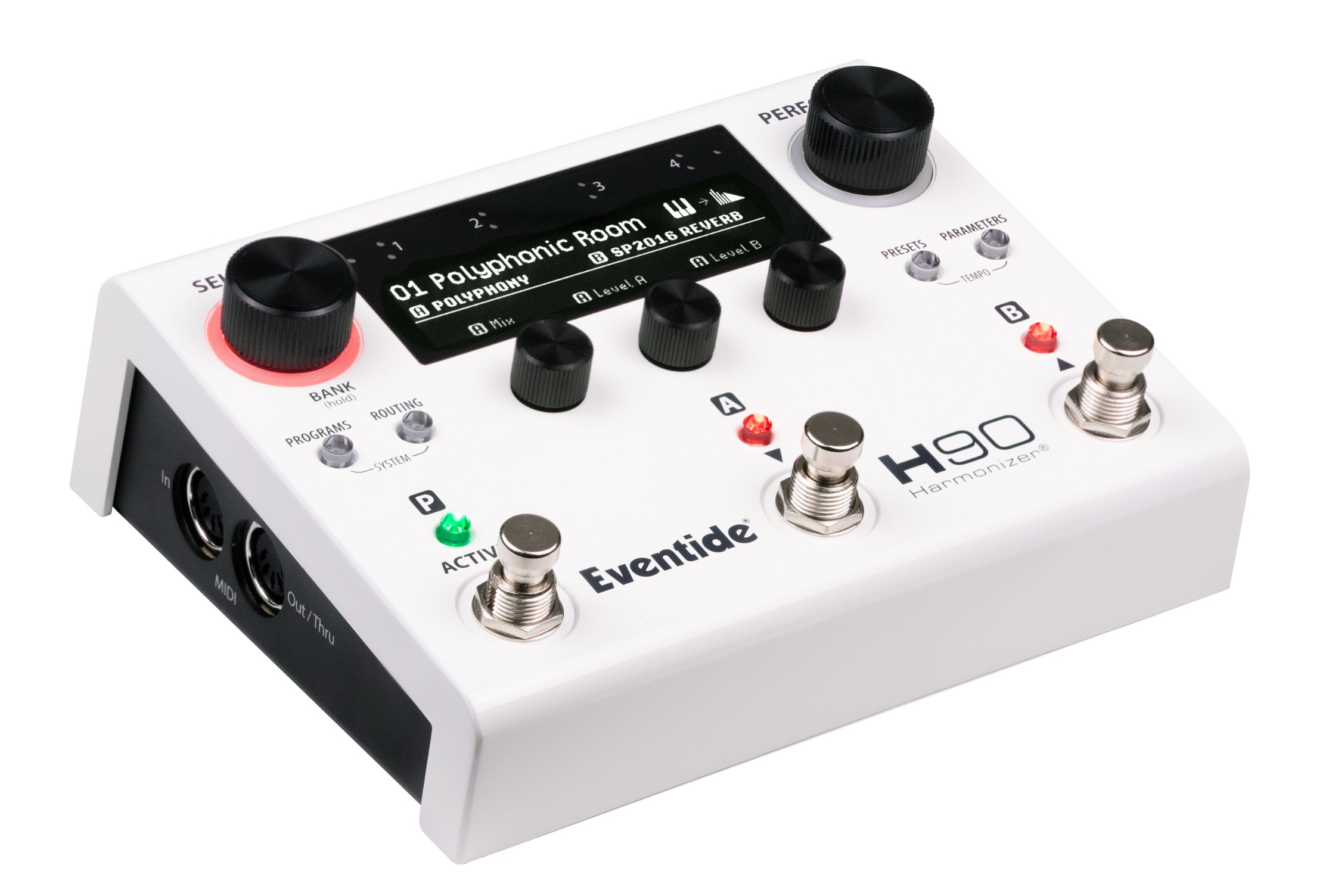 Additionally, the H90 offers instrument or line-level operation, two mono inserts or one stereo insert that can be positioned anywhere in the signal chain, the previously-mentioned dual-mode for processing two independent stereo signals at once, five push-turn knobs for more tactile control, two expression inputs for pedals or auxiliary switches with up to three buttons, a built-in tuner and much, much more.
And while, as Paul states, "Everything can be done on the face of the pedal rather easily," users also have the option of employing the H90 Control software to edit programs, create lists and update firmware on a Mac or PC.
If this sounds like a whole lot of features, it also "barely scratches the surface of the capabilities, versatility and sounds of this revolutionary H90," Paul says. "It's more important that I show just how easy it is to get into the heart and soul of the H90, and remove any intimidation you may have using a pedal with this much power and flexibility."
And get into, he does. Watch and listen in the above demo.
Paul's verdict? "The H90 is a sonic masterpiece in a pedal, and quite frankly, a crowning achievement for Eventide," he says. "There's nothing quite like it to create unique soundscapes with its novel three-dimensional sounds, live performance capabilities, variety of effect algorithms and processing power, all in a programmable stomp box with an intuitive user interface that you barely need the manual for."
The H90, he continues, "may very well be the new standard in compact multi-effect pedals. It is simply the best Eventide has to offer."
To learn more, head to Eventide Audio (opens in new tab).
Thank you for reading 5 articles this month*
Join now for unlimited access
US pricing $3.99 per month or $39.00 per year
UK pricing £2.99 per month or £29.00 per year 
Europe pricing €3.49 per month or €34.00 per year
*Read 5 free articles per month without a subscription
Join now for unlimited access
Prices from £2.99/$3.99/€3.49