Just when parents of youngsters thought the COVID pandemic was behind them, what is now being called a "tripledemic" made up of COVID-19, flu, and respiratory viruses is threatening an already damaged childcare system, according to reports.
Not only that, but children's hospitals across the country are getting stressed, the Associated Press reported, and parents of babies with less serious cases of COVID-19 are having to quarantine, testing the patience of employers.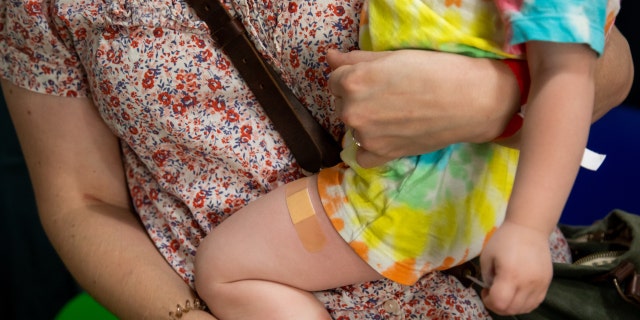 A 1 year-old child wears a band-aid after receiving a dose of the Moderna Covid-19 vaccine at the Brooklyn Children's Museum vaccination site, serving children six months to 5-Years old, in the Brooklyn borough of New York, US, on Thursday, June 23, 2022.
(Photographer: Michael Nagle/Bloomberg via Getty Images)
The Bureau of Labor Statistics show that 104,000 people had to miss work in October because of childcare problems, making it the most ever in a month – even when compared to early pandemic levels.
THE NEW OMICRON SUBVARIANT XBB.1.5: WHAT YOU MUST KNOW NOW
Many of the parents who missed work because their children were sick were not paid, the AP reported, which ultimately hurt families financially.
Over the past two weeks, many families got together for the holidays, which is concerning to doctors who fear the number of sick children is only going to increase.
The childcare system is also experiencing stresses, not just because it is short-staffed, but because of illnesses among children and teachers.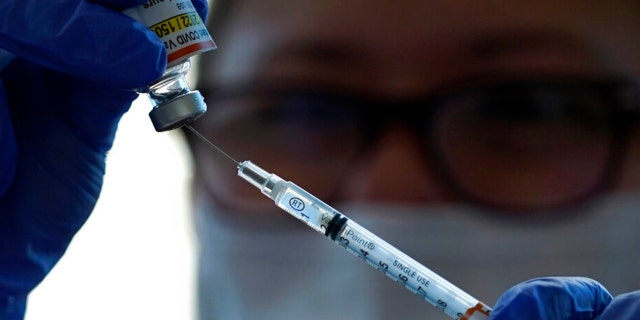 Lurie Children's hospital registered nurse Carolyn Ruyle prepares a dose of a Pfizer COVID-19 vaccine at Lurie Children's hospital Friday, Nov. 5, 2021, in Chicago. 
(AP Photo/Nam Y. Huh)
The AP reported that when the pandemic began, women left their careers at a higher rate than men.
CDC: FLU SEASON STARTING TO WANE AFTER BRUTAL START, INCLUDING AT LEAST 12,000 DEATHS
"Women have since returned to the workforce, particularly women of color," the AP reported Diane Swonk of professional services firm KPMG as saying.
Swonk went on to say the participation of prime-age women working in the U.S. is behind most industrialized nations, which can be blamed on the U.S.'s lack of universal preschool and paid family leave.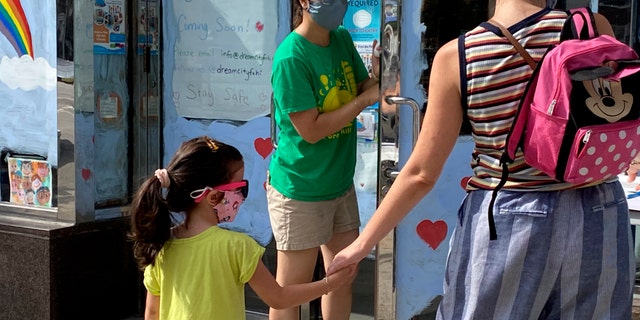 Daycare drop off, phase 4 reopening during Coronavirus Pandemic, Queens, New York. (Photo by: Lindsey Nicholson/Education Images/Universal Images Group via Getty Images)
(Photo by: Lindsey Nicholson/Education Images/Universal Images Group via Getty Images)
So, all jobs suffer from workforce shortages, including day care facilities.
'GREAT CONCERN': INVASIVE GROUP A STREP CASES SPIKING IN SOME PARTS OF US — CDC IS INVESTIGATING
The Bureau of Labor Statistics reported that in November, the U.S. had 8% fewer childcare workers than before the pandemic.
Add to that, the AP explained, the strong labor market drove up the cost to hire new employees, making childcare spots difficult to find and pricey. When facilities are short-staffed, they often close when staff or students are ill.
CLICK HERE TO GET THE FOX NEWS APP
Guidelines around isolation also hit parents of toddlers hard because while older preschoolers can return to school with masks five days after a COVID-19 diagnosis, children under two cannot because they risk suffocation due to wearing a mask, the AP reported.
The Associated Press contributed to this report.
Greg Wehner is a breaking news reporter for Fox News Digital.