An 11-year-old was shot and killed on Jan. 16 while buying a gallon of milk in Syracuse, N.Y. Brexialee Torres-Ortiz, the Blodgett Middle School class president, was caught in the crossfire of a suspected gang-related shooting in a disturbing trend that the city's mayor called "senseless" and "brutal."
In 2022, nearly 150 shooting victims younger than 18 died in New York City, which is about a 100% increase over a five-year period, New York Police Department data showed. Now, lawmakers on both sides of the aisle are sounding the alarm over the lack of criminal justice reform.
Torres-Ortiz's tragic killing is "not unusual in New York State," and a "failure on so many levels," Congresswoman Claudia Tenney, R-N.Y., tells Fox Digital. Tenney said she has also been a victim of crime while living in the area. 
"My car was broken into, my neighbor's house was broken into. My other neighbor had her car broken into," said Tenney, who adds that crime "came up everywhere" on the 2022 midterm campaign trail, with New Yorkers telling her stories about "a break in, an act of violence, somebody with a knife, somebody with an illegal gun."
NEW YORK TEENAGER SENTENCED TO PRISON FOR DEADLY MOUNT VERNON STABBING OF RIVAL CHEERLEADER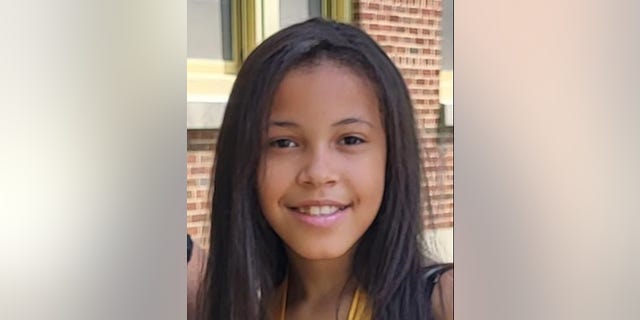 Brexialee Torres-Ortiz, 11, was killed in a shooting in Syracuse, New York, on Jan. 16, 2023.
(Syracuse Post Standard)
The murder occurred just days after Democratic New York Governor Kathy Hochul introduced a public safety plan allocating $36 million to the Gun Involved Violence Elimination (GIVE) Initiative and $40 million to aid prosecution efforts at state district attorney's offices.
After New York's crime wave dominated the 2022 midterm cycle — and flipped several seats in the GOP's favor — the state's leaders in Albany are now answering the voters' calls to tighten up bail laws and fund police departments. But it might not be the approach that the Republican delegation can get on aboard with.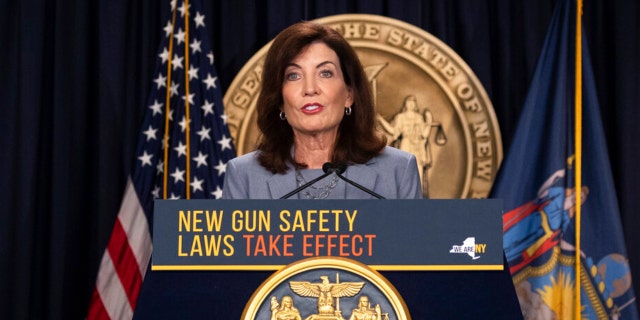 New York Gov. Kathy Hochul speaks during a press conference about upcoming Gun Free Zone implementation at Times Square, Wednesday, Aug. 31, 2022, in New York. 
(AP Photo/Yuki Iwamura)
The problem lies with the aftermath of the state's 2020 cashless bail law, which Republicans say allowed for a "revolving door" of repeat offenders to be cycled on and off the street. 
"We have these new laws in Albany that are just a few years old that are just spiking our crime because people aren't held accountable anymore," said Tenney. 
ERIC ADAMS WARNS FENTANYL WILL 'DESTROY GENERATIONS' IF NEW YORK CONTINUES 'SLEEPING ON' CRISIS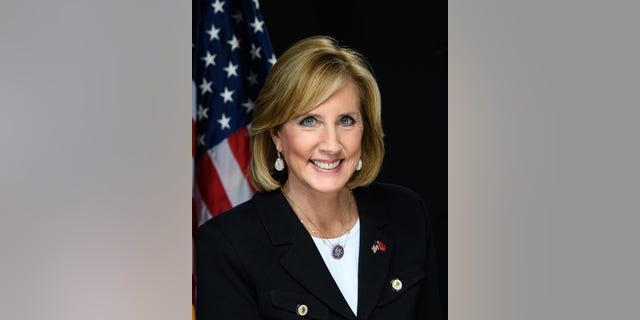 Rep. Claudia Tenney, R-N.Y., in an official headshot provided by her office. 
(Congresswoman Claudia Tenney)
In response, the entire New York Republican delegation sponsored the SERVE Our Communities Act, which would provide incentives for the state to hold repeat offenders accountable, including a $10 million anti-recidivism grant from the Department of Justice. 
Tenney says that judges in New York "are not able to determine the dangerous standard," which allows judges to hold people in jail who they believe will commit crimes if released. 
NANCY PELOSI SAYS NY DEMOCRATS WHIFFED ON CRIME: 'THE GOVERNOR DIDN'T REALIZE SOON ENOUGH'
"That dangerous standard was brought down to Albany in a special section session rejected by the Democrats and rejected by Kathy Hochul," said Tenney. 
In her 2023 "Achieving the New York Dream" plan, Hochul defended the cashless bail policy, saying that "data from before and after the enactment of bail reform actually shows that eliminating the "least restrictive" standard for bail-eligible offenses — while retaining it for less serious crimes — will not increase the overall rate of pretrial incarceration. Of course, we also must understand that changing our bail law will not automatically bring down crime."
"We have these new laws in Albany that are just a few years old that are just spiking our crime because people aren't held accountable anymore." — Congresswoman Claudia Tenney
Hochul's office did not respond to Fox News' request for comment. However, New York City Mayor Eric Adams, a Democrat and former police officer, recently said that Manhattan will be leaving crime behind in 2022, saying it's "trending downward" in a Jan. 5 press conference. 
But the numbers paint a different picture: year-to-date data shows that shootings in New York City spiked 19% from this time last year.
ERIC ADAMS ADMITS HE WAS 'SHOCKED' AT 'HOW BAD' NYC WAS BEFORE TAKING OFFICE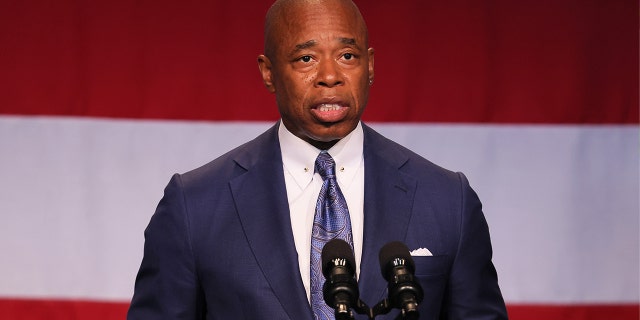 New York City Mayor Eric Adams
(Michael M. Santiago/Getty Images)
More than 200 New Yorkers died last year to gun violence, according to a report from the New York State Division of Criminal Justice Services. Gun violence deaths also skyrocketed by 31 percent over the past five years.
CLICK HERE TO GET THE FOX NEWS APP
"This is happening around the country," said Tenney, who believes that New York's crime wave is emblematic of a national trend in progressive-run cities.
Under Mayor Lori Lightfoot's leadership, total crime in Chicago rose by 41% in 2022, city data show, while in Los Angeles, murders rose by 12% from 2020-2022 under Mayor Eric Garcetti's tenure. 
Lacey Christ is a producer with "Fox News @ Night."