Economy 7 hours ago (Jan 04, 2023 12:06PM ET)
2/2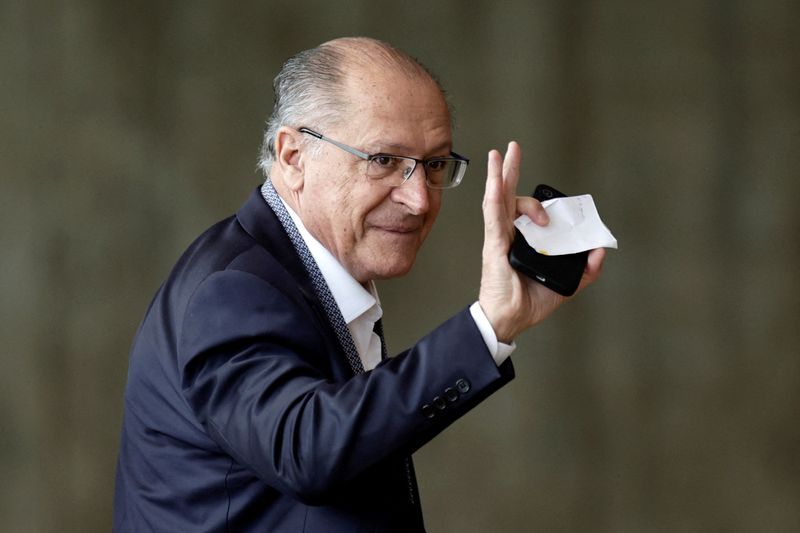 © Reuters. FILE PHOTO: Geraldo Alckmin, newly elected Vice President of Brazil, waves before attending a meeting at the transition government building in Brasilia, Brazil December 13, 2022. REUTERS/Ueslei Marcelino

2/2
BRASILIA (Reuters) – Brazil's Vice President Geraldo Alckmin said on Wednesday that the state-run development bank BNDES should reduce interest rates to lenders, raising doubts on possible changes to its current policy, which is currently aligned with market prices.
Speaking to journalists after taking office as the minister of Development, Industry, Trade and Services, Alckmin said it would be "important for the BNDES to make an effort to reduce interest rates."
Asked whether this would involve changing the so-called TLP rate, charged by BNDES to lenders, he said only "it is important to create conditions to reduce the interest rate."
The TLP was implemented in 2018, during former President Michel Temer's administration, to bring the cost of state lending rates in line with those of the market. It replaced the former TJLP rate, which was set by the government below the country's Selic base rate, to subsidize corporate loans.
In his inaugural speech, Alckmin said his ministry will have BNDES under its wing, stressing it was essential to strengthen the bank's role to leverage the economy.
According to Alckmin, BNDES should act "as a dynamizer of the industry competitiveness and exports, especially those of higher added value."
Leftist President Luiz Inacio Lula da Silva named a veteran of his Workers Party, Aloizio Mercadante, as the next head of the BNDES, triggering expectations of heavily subsidized credit policies that could reduce the monetary policy power and inhibit the expansion of the capital market.
Before the president took office on Sunday, his transition team said it was necessary to reform the TLP rate to reduce it, a change that could dilute the impact of the central bank's monetary policy decisions.
After the post had been refused by several businessmen, Alckmin was appointed by Lula, viewed by the market as a move due to his past as a center-right politician. A former Sao Paulo governor, Alckmin lost to Lula in the 2006 presidential race.
The market's reading of Alckmin's appointment was that he would counterpoint Finance Minister Fernando Haddad, who is from Lula's Workers Party and shares with the president the belief that the state's presence must be greater to reduce social inequalities and boost the economy.
Recent comments from Lula and his team triggered adverse market reactions due to indications of interference in state-owned companies, the maintenance of costly tax waiver on fuels, and possible reversal of liberal reforms, reinforcing doubts about how public accounts can be improved amid increased welfare spending.
Lula's administration split economic affairs between four ministries, also including the Planning Ministry, which former Senator Simone Tebet will head, and the Management Ministry, which academic Esther Dweck will be in charge of.
That contrasts with former President Jair Bolsonaro, who centralized policy formulation and decision-making into a single Economy Ministry.
Related Articles